Iceland, 2018
B and I spent a week in Iceland. I've written up a mission report. Don't feel you have to read through it; it's mostly for the sake of memory. Photos are grouped per day.
(The text herein is mine. Photos are selections from our shared photo folder for the trip.)
---
Day 0.5:
Landed at Keflavík around 5 AM. Bathrooms have a "how clean am I" terminal with emoji happyface/sadface buttons.
Took the dawn bus to Reykjavík. Drove past our first lava field, although we did not yet know to call it that. Mist lying in every field (lava and not), slowly burning off in the sunlight.
Reykjavík has suburbs and manicured lawns beside the highway. (Where there aren't lava fields.) Everything is modernist and brightly colored.
Found the modernist hotel for our first night.
Icelanding bed linen is two separate blankets even for a double bed. The hotels show their hospitality by folding each one to look even smaller than it is, so when you walk into the room you think your bedding consists of two small sleeping bags. I found this very strange but in fact it works well. You cannot steal your snooze-partner's blankets by turning over. Science!
Fell down for a nap until noon.
---
Day 1:
Walked around Reykjavík. The Old Town, and the street leading east, is very, very full of tourist stuff. It looks like a beach town.
Went into the Settlement Museum, which has the (actual, in-situ) remains of a circa-870 farmstead found under the city.
Bought Icelandic hot dogs for lunch. Excellent hot dogs.
Walked around the waterfront. This is a working harbor town as well as a tourist trap. To be sure, there's a lot of overlap there -- plenty of boats doing whale-watch runs and puffin tours.
Poked our heads into the Saga Museum, but only the gift shop. Similarly the Maritime Museum.
Took photos by the Eve Online monument. The monument platform is printed with thousands of player usernames in very tiny print.
Took a ferry out to Viðey Island, in the bay by Reykjavík. A lovely place to walk around. We sat on a hill. We sat by a cliff where birds were wheeling around; the birds were disgruntled and kept soaring right by us. (Probably a nesting area.) We found our first view-dial, which was encrusted with bird poop.
Took the ferry back and headed to Hallgrímskirkja church. The view from up the tower was pretty good.
Thai food for dinner. First discovery: they do not bring you the check in Iceland. You go up front and pay. This is true from the meanest cafe to the fanciest restaurant. We sat uncomfortably occupying a table until we figured this out.
Walked back up the tourist street. I bought a pullover sweater layer (high-tech foo, not wool), as I had failed to pack such a garment. B found a good hiking jacket.
Collapsed in hotel. Icelandic showers have a hot-cold knob which is marked in centigrade degrees. Extremely civilized.
August daylight is something like 6 AM to 10 PM, with an hour of bright sky on either side of that. It gives us midlatters a lot of energy for walking around touristing for hours and hours.
Eve Online memorial
Me saluting videogames; a closeup of the base.
Viðey Island
Ferry crossing to Viðey Island.
The island.
The mountain wears a cloud like a hat.
A bird is annoyed at me. There were probably nests in the rocks just below the cliff edge.
---
Day 2:
Picked up rental car and headed north out of the city.
Reykjavík has lots of traffic circles. They are very fond of them. Also a very nice tunnel to the north. I am told that it replaced an entire ferry service across that particular fjord.
Turned off before Borgarnes to look at a waterfall, Hraunfossar. A very strange waterfall, where mountain water pours out of an aquifer of porous lava below a sealed lava surface. So you get a whole chain of waterfalls springing out of the middle of a cliff face. There's also a larger waterfall upstream called Barnafoss. We walked on the surface lava and looked at plants and birds.
There's a whole chain of geothermal energy stations and hot-water pipelines across this part of the country. We didn't realize what they were, until we...
Stopped at Krauma, a hot spring and spa. Boiling water comes out of the ground. It's amazing. Distinctly sulphurous, although not chokingly so.
You can't bathe directly in the spring (you would die), but they have five regulated outdoor hot tubs. We sat in the water and wrinkled. The water had filamentous algae floating around, which I guess you're supposed to regard with fraternal fondness.
Continued the drive up towards Hólmavík. We were now driving along fjords. Fjords are amazing. Also rather stressful to drive along. Most of them don't have bridges or tunnels, so you have to zig-zag up the coastline.
We arrived in Hólmavík too late to enter the Museum of Sorcery and Witchcraft. We did not get to see the Necropants. The museum restaurant is called Galdur (c.f. "Dol Guldur" in Tolkien).
Continued to our guest house. The place has a (reputed) sorcerer's cottage, a touristy giant troll chair, and a spring said to be blessed by Guðmundur the Good. We dipped our hands in the well to be healed of writing buggy code. We failed to ask for blessings on mobile devices, unfortunately; B broke her primary phone-camera while lying down by the well. All her photos for the rest of the trip thus had to use the selfie-cam. (Many, many selfies.)
We walked up the road through a flock of arctic terns. They were thoroughly displeased to see us and shouted their annoyance above our heads.
Hraunfossar and Barnafoss
Lava flows around the waterfalls.
The river course below the waterfalls. It was hard to tell how much of the water's color was bubbles and how much was sediment.
Barnafoss. You can see a stone arch within the fall itself.
Hraunfossar. The water emerges from an aquifer partway up the cliff, and pours down over a bottom layer of stone. The top layer is the lava pictured above.
Krauma
Runoff from the spring, and the geothermal pipeline carrying hot water to nearby towns.
Boiling hot spring.
Guest house near Drangsnes
The Big Chair. Not actually of any historic significance.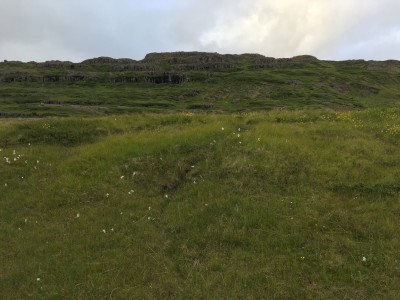 I don't remember which mountain this was.
The top of the world between Steingrímsfjörður and Ísafjarðardjúp. All this water just soaks out of the ground and pours down the mountainsides, all summer long.
---
Day 3:
We crossed the neck of the peninsula, a highland road that could easily have been Mars just before the last of the lichen went extinct.
Continued driving up the fjords. Stopped for a meal at Heydalur, a farm with a parrot. (Large, African Grey, not visibly pining.) Also spotted an arctic fox squatting coolly near the farm.
Had a really lovely smoked lamb appetizer and then walked up part of the mountain. This was the first point where my qualms about high cliff edges took hold. The hill was fine, but the stream gorge running down the hill creeped me out. I stayed away from it.
Continued up to Ísafjörður, a tiny fishing town on a peninsula in a fjord. It is, mind you, the biggest city in the Westfjords. It's so big that it has a traffic circle.
A bloody enormous cruise ship, apparently bigger than the town itseldf, was sitting offshore.
I walked around the town some while B napped. By the time we were prepared for dinner, everything was closed except a pizza joint, the two food-court Thai places by the (closed) supermarket, and the convenience-store-cum-diner where everybody in town hung out. We hung out there. Pretty good burgers. I am a fan of Appelsín, the local orange soda.
We walked a bit more in our quest to find the Ísafjörður tourist center. I'd found a comment that it was in the Edinborg Culture House, but our first attempt led us to the Culture House Eyrartuni, a completely different building. (Also the library.) We eventually found the correct Culture House, where a tiny sign behind the bathrooms pointed at Tourist Information. It was closed by then, but we resolved to return on the morrow.
Heydalur
Really nice-looking smoked lamb dish.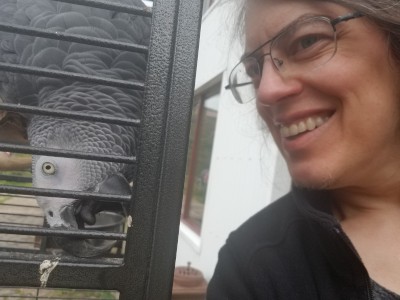 The parrot at Heydalur.
The hill above Heydalur.
---
Day 4:
We returned to the Tourist Center. Turns out that you're supposed to go around the side of the building, where there are big "Information" flags and signs. The entrance behind the bathrooms is the back door. Okay. We got a hiking map, our goal for the morning.
Hit up the Museum of Everyday Life, which is an absolutely charming little place whose exhibits are bits that people have contributed from their ordinary lives. One wall of quotes from Iceland immigrants on their experiences; one wall of old home photos and notes from the people who took them; one wall of old shoes and recorded diaries about them; one video that asked the question "What were the Northern Lights like before they were marketed as a big tourist attraction?" Astute question.
We then hiked up to Naustahvilft, the Troll's Seat, a glacial cirque above the city. A straight walk up a steep hill. I am not really in shape for that sort of thing but determination saw me through.
B attempted to continue the climb while I sat on a boulder. She got most of the way up the ridge, but the last bit looked too dangerous. It was nonetheless an epic feat. A fair number of hikers came through while we were there. I survived the descent -- my legs were basically jelly at the end -- and we drove back around to our hotel.
Dinner was at a semi-fancy restaurant-and-bar. The fish soup was fantastic and mostly cream. The caramel cake was fantastic and mostly meringue.
Ísafjörður
A fjord near Ísafjörður. You can see the streams and waterfalls coming down the mountain.
Clouds on a mountain.
A beach by Ísafjörður.
Igneous rocks have holes in them.
Ísafjörður Icehouse art.
Naustahvilft

Naustahvilft, the Troll's Seat above Ísafjörður.
B went very high up.
The seat of the cirque.
Streams coming down the hillside, through the moss. There were little purple flowers.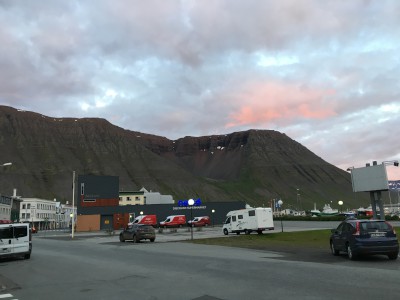 A view from the city, at sea level. The lighting isn't great (it's evening) but you can make out the cirque.
---
Day 5:
We left early, as we had a hard 7:00 appointment at the Brjánslækur ferry. The road out of Ísafjörður goes through an impressive three-ended tunnel. (Sadly, no traffic circle at the center, just a fork.)
The road through the mountain pass led us past a small snowfield. We stopped, tossed snowballs, and listened to the extreme quiet at the top of the world. Then we descended to fjord level.
Stopped at Dynjandi, a multi-level extravaganza of a waterfall. Many tourists. Many cliff edges for me to stay away from.
Also stopped at the Iceland Sea Monster Museum. The town was getting into some kind of folk festival mode; the local restaurant had a guitarist soulfully covering Billy Joel's "Pianoman". Service was slow but we had tasty lamb barbecue and fish-and-chips.
Then on to the museum of Icelandic cryptids, which turn out to mostly look like monster sheep. It's a really nicely put together museum; dioramas, random sea machinery, an interactive table display of local legends.
We made it to the ferry, which hauled us (and our car) across the fjord to Stykkishólmur. Very windy on deck.
We managed to not be in the right place when they started offloading cars, thus briefly annoying everybody, but we figured it out and drove off through Stykkishólmur. A quick sandwich-grab at a gas station (a "Pepperoni Taco" is not what you are picturing) and then up to our first guest house on the Snæfellsnes peninsula.
Minor crisis: the guest house did not have a 24-hour desk. We arrived at 11 pm (sky still light!) and had to call somebody to get in. In fact they'd left our keys in the door, but we hadn't gotten the message about which door to look at. All was resolved and we collapsed into bed.
I tried leaving the window open (facing the sea), but the bird calls turned out to be irregular and raucous rather than soothing, so I closed it after five minutes.
Mountains again
Lupines in the mountains between Dýrafjörður and Arnarfjörður.
Snow at the top of the world. Even in August, all the mountains had these little patches of snow in pockets where the sun rarely shines. It melts, but really, really slowly.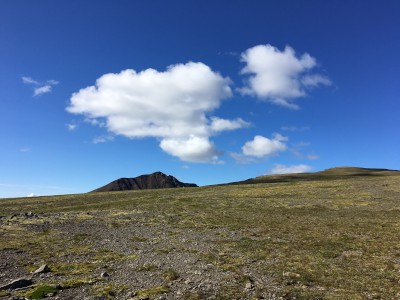 Looking the other way. It was very, very quiet up there.
Dynjandi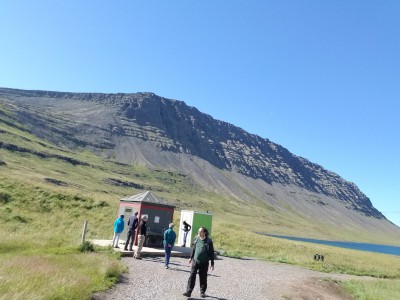 Me walking dramatically towards the waterfall.
Looking up the fjord.
Looking down one part of the waterfall.
Cliffs above the waterfall
Rainbow in the spray.
Me. Despite appearances, the water is not bouncing off my head.
Snoofing selfies.
Strangely spiraled rock layers.
Several layers of the falls.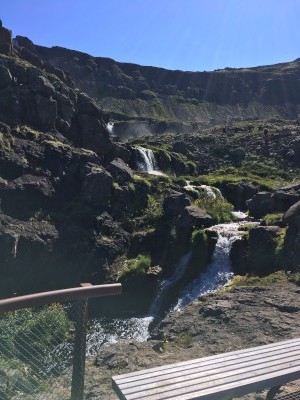 Yet more mountains
Moss and rock strata.
Iceland Sea Monster Museum
The Shore Laddie and the Merman. (A diorama.)
The Little Seahorse of Arnarfjörður.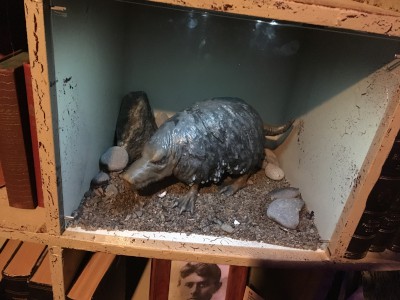 The Shore Laddie (a smaller diorama).
The Red-Combed Sea Horse. Note that "fax" is "horse", just like in Tolkien.
The Shell Monster. My photo of this diomara sadly did not come out, so you just get the placard.
Crossing Breiðafjörður bay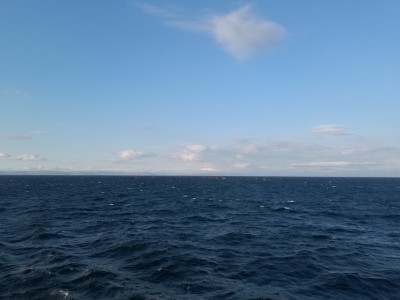 Hexagonal awareness
A basalt block set up as a stool.
More basalt furniture.
---
Day 6:
We drove into Snæfellsjökull Park and located the tourist center and a hiking map. The park is full of lava fields. Lava fields are weird. There's rocks and pale moss and green moss. The rocks stick up in just the way that rocks usually don't.
First stop: Vatnshellir Cave. This is a lava tube that was exposed by a sinkhole. It's moderately touristed up -- no built-in lighting, but there are spiral stairs down between the levels. We took a tour. Very much unlike the limestone caves I'm used to. There are stalactites and stalagmites, but they were formed from dripping lava and have not grown since the rock cooled. No cave life except some silvery bacteria on the walls.
We stopped at a lava beach at Djúpalónssandur. Black pebbly beach surrounded by lava crags. This was the most Ico-like moment of a country from which, I have to say, Ico and Shadow of the Colossus stole shamelessly. Bonus: bits of a wrecked 1948 fishing trawler gently rusting on the strand.
We drove around the peninsula to Ólafsvík, the town to the north. Everything was closed for Commerce Day. No supermarket run for us! Instead we stopped at the only open restaurant. This time I had the fish-and-chips.
The north wind had picked up a lot by then. We drove back into the park to Saxhóll Crater, a lovely little volcanic cone whose top looked like it had been blasted open from inside. Because it had been. The access was a stairway around the outside. It was windy as a wind-thing at ground level, and twice as much so at the lip. Windy enough that if I jumped straight up, I landed two inches behind my own footprints. B went down into the crater; I did not. (Not a particularly scary climb, I just didn't feel like scrambling.)
We then attempted to visit a pair of enormous basalt columns which rose from the shoreline by the visitor center. The fates were against us. When I opened the door of our car, the wind yanked it wide into the side of the next car over. So we spent 30 minutes sorting out the dent with a lovely French couple, their rental company, and our rental company. We had to make a lot of phone calls and fill out a lot of forms in Icelandic. B handled most of this, to be clear. I supplied a clipboard and a pen and apologized to everyone in sight.
At this point it was clear that we should not push our luck any further. We drove back to our guest house (a new one, farther from the park) and settled in with dinner.
We took a brief walk up the hill behind the house, but it was still windy as heck. A couple of sheep stared at us. They were not impressed; they baaaa'd for support and walked away. Support was a herd of ponies in the same field. (You're supposed to say "Icelandic horses", but no red-blooded American can say anything but "ponies".) The ponies were equally unimpressed; when we did not feed or pet them, they tossed their manes and flounced off. These are animals who are aware, who have no doubt, that they are the prettiest creatures on the planet. One cannot disagree. They came back for another look, tossed their manes, and flounced off again in case we missed it the first time.
Arnarstapi
Sea arches. The cliff is chewed away in these mad sinkholes and arches.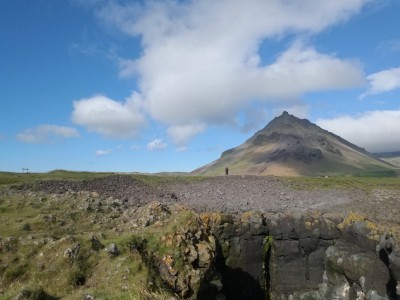 Reverse angle on that second arch.
Snæfellsjökull Park
A map of the various lava flows over the past 10,000 years or so. The terrain really does look different at different ages.
Vatnshellir Cave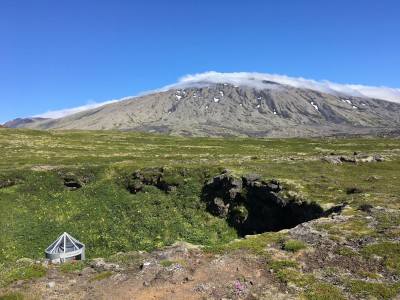 The entrance, a sinkhole which exposes a lava tube. They've built a spiral staircase that takes you down inside. The rock shelf on the right opens into a higher-level cave, although it doesn't go back very far.
Rocks inside the cave.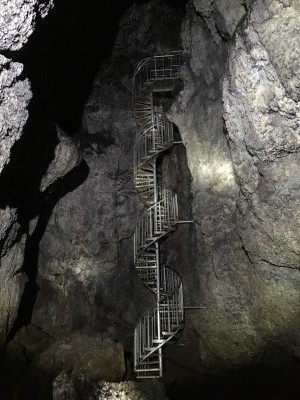 A second stairway which runs down to the lowest (accessible) level of the cave.
Gooey-looking lava. There were a lot of textures in there.
Djúpalónssandur beach
Rock formations on the lava-pebble beach.
Tiny snails.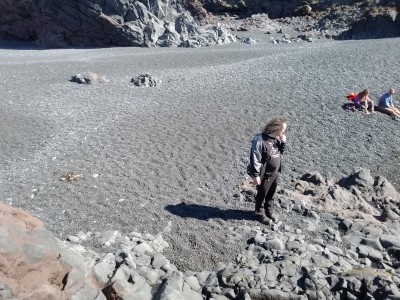 Pensive Zarf.
Looking inland.
Wreckage on the beach. It is historic wreckage, dating from a particular sea disaster in 1948.
Saxhóll crater
Looking down into the crater.
Panorama at the lip of the crater. Snæfellsjökull is the mountain in the distance. The top is always covered with cloud; the glacier breathes it.
Very windy.
Guest house on Snæfellsjökull
Hospitality: very small bedding. (It unfolds.)
---
Day 7:
The wind was still pretty wild when we woke up; we imagined that our scheduled "too rainy to go out" day would turn into a "too windy to go out" day. But by the time we got back into the park, things had calmed down.
We looked at the Búðir church, a historic wooden building on the shore, and then finally got ourselves into a lava field. The trails were labyrinthine. Again, this is a thoroughly video-game-like landscape: maze-like interpenetrating areas of moss, turf, and bare rock.
We drove back around to Ólafsvík (open at last) and made a supermarket run. There may also have been a bakery stop. (Caramel cake with gold sprinkles.) We picnicked upon smoked lamb and cheese sandwiches and then headed back into the park.
At last we approached Snæfellsjökull, the white-capped mountain. A gravel road ran around and up the side, which made life easier.
We stopped for a short hike to a waterfall called Klukkufoss. Small but pretty, with twisted columnar basalt at the base.
Then we continued our drive. The gravel road turned into a rutty gravel road, then a gravel track. We abandoned the car and continued on foot.
A permanent cloud hangs over the mountain, so it was chilly and grey. Several more muscular cars jolted past us as we walked. The track was easy for walking, but steadily uphill.
We were looking for a fork that turned into a trail up towards the glacier. But we'd misjudged the scale and walked for a mile or so before we found it. A mixture of grass and lava field turned into pure lava field as we climbed, with steadily decreasing amounts of moss.
We finally found the fork. I was feeling balky, since the trail seemed to disappear up into cloud without ever turning into a view of the mountain. (The view behind us was fantastic, of course.) However, B was set on seeing the glacier, and she chivvied me onwards.
A surprisingly short time later, the track disappeared into a gravel ridge. When we climbed it, a glacier lay before us! The edge of a glacier, anyhow, as it petered out into icy streams and snow fields on gravel. The landscape was Antarctic in its barrenness. (Although in fact it was well above freezing.)
The ice was just a few hundred yards away. I dug in my heels and declared that seeing it was enough for me, but B decided to go touch the glacier. She scrambled down the ridge and walked across the rocks and snow. I watched her small dot move into selfie posture, then bend down to drink glacier water.
Then I watched her walk off along the ice line. Unbeknownst to me, she had lost her bearings and was coming "back" 90 degrees off her course. (I thought she was just poking around.) There was a bit of a wait while I stood at ease and B scrambled around trying to find me. She eventually succeeded. (There was cell reception, but it was delayed enough that I didn't get her texts until she'd found me.)
I declared it another epic feat and we headed back down through the climate zones to the car. In retrospect, we could have parked higher up. The wind was getting fierce again.
That was clearly the end of the day, so we drove back to the hotel, made more sandwiches, and had laptop time.
Búðir lava field
Looking across at the lava field.
A variety of weird, irregular lava terrain, all covered with moss.
Klukkufoss waterfall
A small waterfall, but it had some nice columnar basalt near the base.
A reverse angle, looking down the flank of Snæfellsjökull. You can just see a couple of fishing towns on the shore.
Snæfellsjökull, its own self
The road up the mountain.
The glacier. B is hiking across the rubble towards it.
B at the glacier.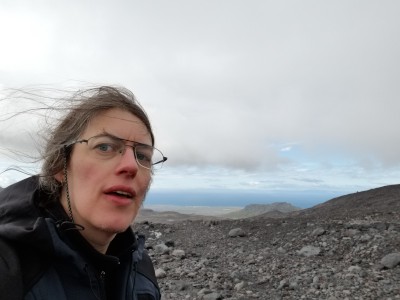 Looking the other way. The top of the world, or at least of Iceland.
The road down the mountain.
---
Day 8:
Got up, packed up, and headed back to the airport.
We made one stop, a cliff made of columnar basalt. It wasn't the most regular columnar basalt I'd ever seen, but since the first columnar basalt I'd ever seen was on Day 7, it was worth the look.
The remainder of the drive to the airport was uneventful. Traffic circles continue to be popular.
"Black chocolate" turns out to be white chocolate with activated charcoal. Perfectly good stuff if you like white chocolate, but a surprise.
Gerðuberg cliffs
A low cliff of columnar basalt.
Looking up from the base of the columns.
---
-- August 17, 2018

Thoughts of Days ( <-- Previous and Next --> Thought)